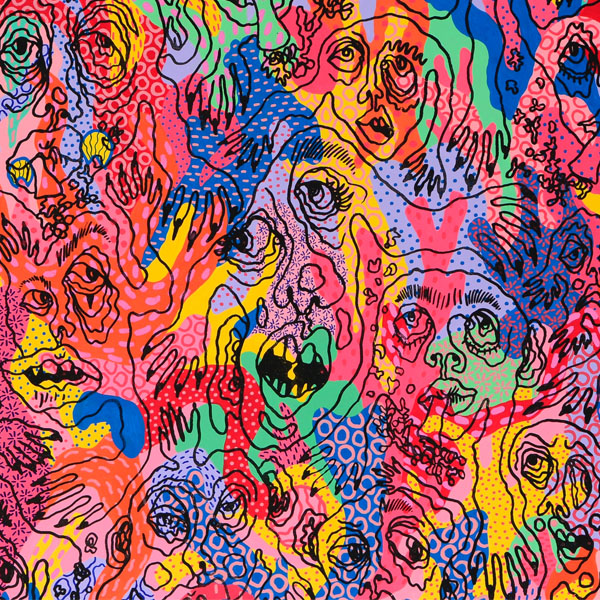 Ellie Blundell
I went to Meols Cop then KGV before doing a foundation year to experiment with new techniques, build a portfolio and develop my art style before university, as I will be studying fine art at MMU in September. I have enjoyed making conceptual art, incorporating my love for bright colours and patterns. You can find my work on Instagram @artsy.ell
"My first piece is an A1 acrylic painting on cardboard, inspired by the ethereal and organic shapes of coral that marine species rely on to survive, simplifying them into more abstract forms with patterns added in coloured pen. The vivid colours of thriving coral juxtapose the screen-printed black illustrations of grotesque humanlike creatures on top, to highlight the threat of human endorsed climate change.

The second piece is a four-layer A1 screen-print in fluorescent yellow, purple and blue with hints of white emulating bleached coral. Rising ocean temperatures damage corals' ability to make food, resulting in colour loss. Some bleached corals can produce a chemical to protect themselves from climate change, making them glow in these colours. Despite the joyful appearance, the coral is going through a phase of death, and this is a cry for help.

The third piece is acrylic paint on cardboard, with red handprints, ink drips and pen details to hint at our impending death, as we cannot exist in the ashes of everything we have destroyed. I made a repeat pattern roller from a recycled cardboard tube and observationally drew coral skeletons into Funky foam to print on top in brown, to show the coral at the end of its life.


Finally, I made candle holders from clay, newspaper, tinfoil, rocks and Modroc, then painted them with added pen details. I filmed candles melting over the sculptures and combined the footage into a short film documenting deteriorating coral. Humankind is the flame, exploiting the Earth by burning fossil fuels and pushing the ecosystems we rely on for survival into oblivion, resulting in irreparable critical damage."


Art & Design Show: Main Menu