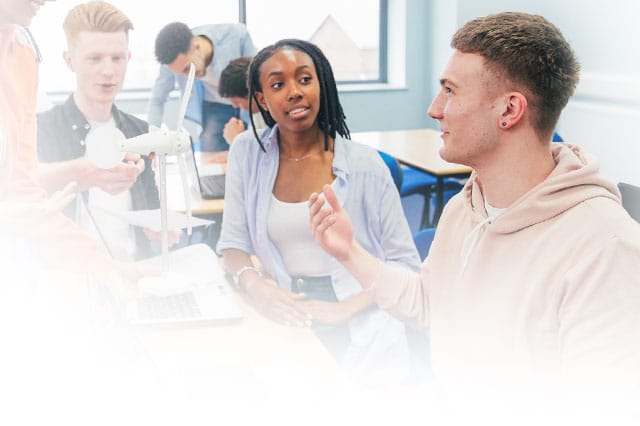 Become an Apprentice
An Apprenticeship is a real job, with hands-on experience, a salary and the chance to train while you work. You're treated just like all the other employees, with a contract of employment and holiday leave. You will undertake a study programme that includes training for your specific job role and you may also study maths, English and ICT.
Learners: Information & Current Vacancies
Recruit an apprentice
Whether you're a large or small business you can develop the skilled staff you need by offering Apprenticeships. We can help you find the right Apprenticeship study programme for your business and help you recruit quality new Apprentices.
Employers: Information & Support
Programme Information
We offer Apprenticeship training in a wide range of sectors. For detailed information on the training we offer for particular job roles, check out our Study Programme information.

Employment with training Available to anyone over the age of 16

Offered in 1500 occupations Train at Intermediate, Advanced & Higher Levels
The YMCA Sefton Nursery has built a close relationship with Southport College over several years and we have had many successful work placement students plus several excellent apprentices. The College Assessors support both the students and the nursery and we work together to develop confident, experienced early years practitioners. Apprentices are an important part of our business, bringing with them a range of skills, and we are proud that two apprentices and one placement student have been employed by us after they have gained their qualification and are proving a real asset to the setting.
Artelier Hair Formby opened just over three years ago, we have been working with Southport College ever since and have found them to be a great training provider. Our Apprentices from the College have had a wonderful education and been trained to the highest of standards, and we are continuously impressed with the level of care and service our team have been shown by Nicola and the Southport College team. We strive to give our apprentices the very best training and the best start to their hairdressing career, and at Southport College that is exactly what they have received. It's been a pleasure working with Southport College and we look forward to continuing to do so.
Southport College and Fletchers have a strong relationship which goes back many years. We have worked together on various opportunities, such as trialling a new online learning initiative and creating opportunities for college graduates looking for Apprenticeships and Qualifications, in areas from AAT to Business Administration and Management. Those who have undertaken one of these opportunities have communicated their praise and shared positive feedback about their respective programmes. From how they support us in developing our workforce, to meeting some brilliant people and building strong relationships, Southport College has been a wonderful asset to Fletchers.