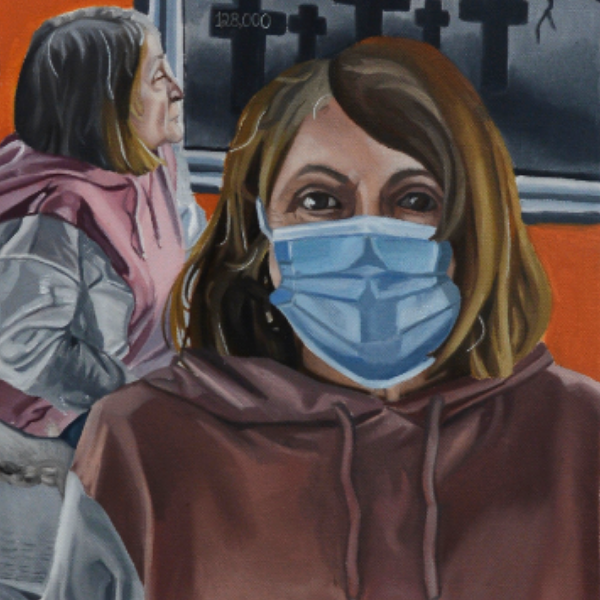 Hollie Goodfellow
Before coming to Southport College I attended St Bede's Catholic High school in Ormskirk. I choose to come to the Art and Design Level 3 at Southport College as I was impressed by the facilities and found it a positive and happy atmosphere. My interests include drawing and painting. After completing this course, I am going to Nottingham Trent University to study Fine Art.
"My final piece is inspired by the COVID pandemic it is meant to represent the loneliness and isolation people have felt during this time especially during the beginning and whilst we were in lockdown. COVID has had major impacts on people's lives and through speaking to family and friends I found people often said they were struggling with the loneliness and isolation of it especially the more vulnerable people who may go weeks or months without seeing anyone.
I choose to paint my nan wearing a mask and staring out of a window onto a graveyard, I was unsure what to put in the window but choose a graveyard to represent the number of people who have died I also faintly painted the number of people who have died up until this point on one of the crosses. The medium I painted in was Oil as it is one of my favourite mediums to do more detailed paintings. The colours I used were quite dull so I choose to do an orange background to contrast."


Art & Design Show: Main Menu