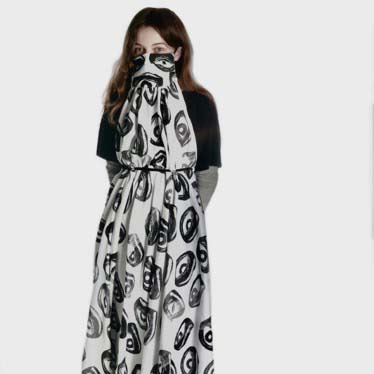 Kate Jackson
I went to Chesterfield high school and took textiles as a GCSE.I got high grades on the course and really enjoyed it. I decided to join Art and Design Level 3 after hearing about the excellent reputation of the course.  
My final piece is a mask that I designed with a long piece of fabric attached to it that can be wrapped around the model to make into a dress. The fabric has been screen printed based on my surrealist inspired eye drawings and designs.

I am very satisfied with the result. I made the mask so it would stand out in a crowd and be eye-catching. My surface design of "eyes" was a response to Covid-19 where eyes are all that we are seeing all we seen on a person is their eyes so I felt that Covid has made people make more eye contact and be more engaged in conversations.