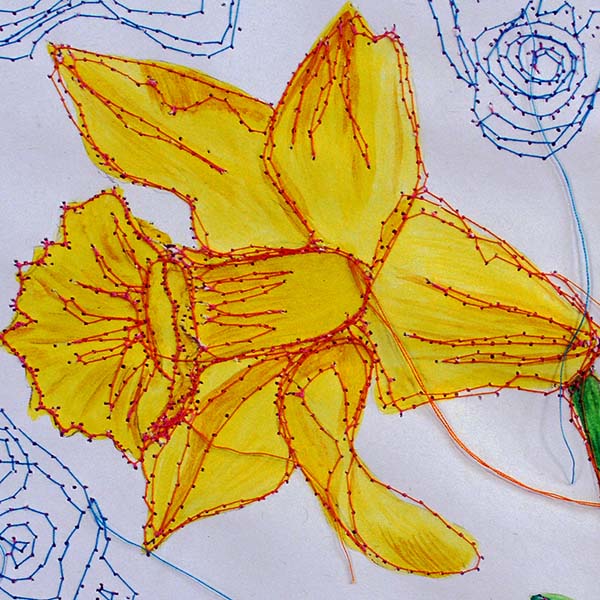 Natasha Randle
I excelled in my art classes at Tarleton Academy and learnt a lot about my creative style. Southport College was my top choice for progression as it was the closest college to home and in an area I knew well. I have enjoyed Level 2 Art & Design this year as it has helped me build my confidence in both myself and my art work. I am especially proud of myself for learning how to use a sewing machine and learn a completely new skill that allowed me to access the Textiles Workshop we have a college. I have learned lots of new techniques that I will hopefully take with me and develop further on Art & Design Level 3 next year.
"My theme is 'Places and Spaces' with the sub-theme of 'Gardens and Nature.' I chose this theme because I have a passion for nature, the colours and insects found within and the wide variety of flowers that can be found in your own garden when cared for. I have a talent for observational drawing with attention to detail and fine line.

My final piece consists of a series of watercolour paintings of flowers, inspired by my primary research photographs of flowers and plants in my garden. I made a series of observational drawings of different flowers, painting with inks and water colours and fine liner. I explored free machine embroidery and hand embroidery, using my chosen colour palette. I took my main inspiration from two very different style artists, Billy Showell and Cas Holmes. I really liked their unique styles and eventually began experimenting with inspiration from both, combining their styles into my final piece.
I created my final pieces with drawings created with stitch with machine embroidered detail. I also created surface print flower designs using heat press with stitched details. I displayed these embroidered pieces in embroidery hoops."


Art & Design Show: Main Menu