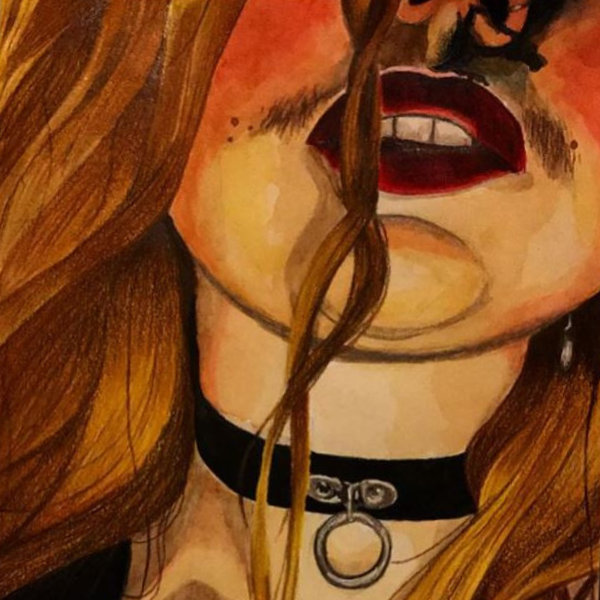 Sam Alcock
After attending Burscough Priory I took a year out of education where I completely fell in love Art igniting passion within my soul that led me to enrolling at Southport College. This was my third and final year here at Southport and I am so incredibly grateful for the opportunity to grow personally and artistically surrounded by amazing friends, tutors and resources.
"For my final project I decided to use my trans identity as inspiration for a deep dive into the queer men who influence me: 1970's glam rock legends. After the events of the Stonewall riot in 1969 the western world was hit with a wave of queer power that effected popular culture forever, Artists like David Bowie dressed in platform souls kicked down boundaries between Male and Female, Gay and Straight opening the world up to queer kids everywhere.

Throughout my project I researched 70's Queer Culture, Artists and Glam Rock experimenting with different printing and embroidery techniques along the way. For my final piece I created a Tapestry inspired by the Aids Memorial Quilt which was a huge collaborative piece made in the 80's to celebrate the lives lost during the Aids pandemic.

For my A1 mixed media tapestry, I have showcased a range of printed imagery including: a collaged screen-print of David Bowie's 1972 Starman performance on TOTPs, a woodcut print of Marc Bolan of T-Rex, and A lino Print of Kurt Wild from the 1998 film Velvet Goldmine. Along with machine embroidery on a range of fabrics including: a continuous line portrait of Lou Reed, Quotes and Lyrics.
Most of the lyrics included are representative of my feelings around my identity, transitioning and recently opening up (or not opening up) to my parents about being transgender for example "You've got your mother in a whirl, she's not sure if you're a boy or a girl." And "Don't tell your papa or he'll get us locked up in fright."


If you'd like to see more of my work, you can find me on Instagram @fagg_art"


Art & Design Show: Main Menu